✍ Dit is een mail uit Noor's archief
Het is een vraag die ik vaak krijg:
Wat is er werkelijk voor nodig om klanten te krijgen met video?
Heb ik een lijst nodig? Een gratis weggever? Testimonials? Hoeveel tijd vraagt het?
Kijk, je ziet het resultaat van mijn werk. Niet alleen in je mailbox, maar ook via YouTube of LinkedIn, mijn online cursussen, mijn High End Membership of persoonlijke begeleiding.
Je ziet niet wat er achter de schermen allemaal gebeurt.
Dat is wat tricky.
Want, ik laat het er gemakkelijk uitzien, maar dat is het niet.
Je ziet bijvoorbeeld niet dat er eindeloos veel video's in de prullenbak belanden. Of welke videostrategie helemaal niet blijkt te werken. Of hoe moeilijk het is om een high end aanbod te creëren en aan te bieden.
Schrijf dit niet om bij je uit te huilen hoor. Ik hou van mijn werk. En daar horen ook lessen bij. Die soms een beetje pijn doen… Het fijne van die pijnlijke fouten is: je wordt er beter van. En daar profiteren mijn klanten dan weer van. Daar profiteer jij van.
Het is een fabeltje dat video eenvoudig is.
Als je net als ik bent (geloof van wel, anders lees je deze mail niet), dan doe je werk waar je voldoening uit haalt, voor mensen die dat enorm waarderen en jou belonen voor de waarde die je creëert.
Natuurlijk wil je dat nog jaren blijven doen en wil je groeien. Dan is het nodig om mensen te bereiken die jou nog niet kennen. Daar heb je goede marketing voor nodig. Marketing die over jaren nog werkt.
Terug naar de vraag:
Wat is er werkelijk voor nodig? Een flinke portie doorzettingsvermogen. En moed. En strategie (als je wil verkopen – en dat wil je).
De video is alleen het zichtbare. Dat wat je ziet. De onzichtbare strategieën die werkelijk voor resultaat (lees: leads en nieuwe klanten) zorgen, krijg je als we gaan samenwerken. Je bent van harte welkom om aan te sluiten. Je krijgt niet alleen strategieën en praktische kennis, maar ook inspiratie en zin om het echt te gaan doen.
Heb je een vraag? Leg die gerust aan me voor door een reply te sturen. Ben er om je te helpen.
Op jouw videosucces!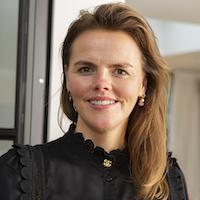 Hartelijke groet,
Noor 'videostrategie' Janmaat
Video Marketing Strateeg
P.S.
Vraag je je af of dit het juiste moment is om te starten met videomarketing?
Bekijk deze checklist (als je op alle 5 stellingen JA hebt geantwoord, dan is dit hét moment om te beginnen).