✍ Dit is een mail uit Noor's archief
Onderwerp: Je verkoopproces verkorten met video
Veel ondernemers denken dat ze goede leads krijgen door heel veel video's te delen. Of elke dag nieuwe content op social media te plaatsen. Dat hele idee is gebaseerd op massamarketing, waarbij je zoveel mogelijk leads wil krijgen in zo min mogelijk tijd, voor zo laag mogelijke kosten.
Maar, als je een hoogwaardige dienst hebt, dan wil je in gesprek met mensen van jouw niveau, die serieus geïnteresseerd zijn. Daar hoef je niet heel veel video's voor te delen. 1 video volstaat. Het is niet zo moeilijk om die te laten zien aan potentiële klanten en er zijn vervolgens ook niet veel contactmomenten nodig. Je kunt al in 1 gesprek de deal closen.
Er zijn eigenlijk maar 3 stappen nodig om je verkoopproces te verkorten:
Je hebt een goed verhaal nodig. Eentje waarin je deelt wat er misgaat bij klanten en hoe jij kunt helpen om dit probleem op te lossen. En je geeft iets waardoor ze anders gaan denken over hun situatie.
Je laat je klanten vertellen waarom ze zo graag met jou werken en welke resultaten ze precies hebben behaald. Je wilt zeker 5 video testimonials hebben, maar hoe meer, hoe overtuigender.
Wat heel belangrijk is, is dat je een filter toepast. De beste klanten aantrekken en de rest van de mensen afstoten. Dit ene idee maakt het grote verschil. Versmallen, niet verbreden. De beste marketing richt zich niet op iedereen. Je marketing maakt precies duidelijk voor wie jouw verhaal bedoeld is en voor wie niet.
In het kort gaat het alsvolgt: een potentiële klant – die niet eerder van je gezien of gehoord heeft – bekijkt een video. Je komt met hem in contact. Je hebt een of twee gesprekken en hij zegt JA tegen je hoog geprijsde aanbod.
Ik gun jou ook een mailbox vol berichten van nieuwe klanten die zélf een afspraak hebben ingepland. Stuur me gerust een reply als je dit interessant vindt. Vertel me even kort wat je doet en wat je komend jaar wil bereiken, dan kijken we samen wat ervoor nodig is om dit realiseren.
De zomer is er een perfect moment voor, want de rest van het jaar (en de jaren die volgen) kan jouw video doorlopend interessante gesprekken/klanten opleveren.
Op jouw videosucces!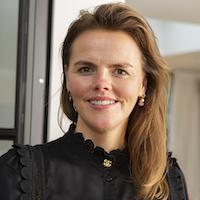 Hartelijke groet,
Noor 'videostrategie' Janmaat
Video Marketing Strateeg
P.S.
Hij zit dagelijks achter de microfoon. Om commercials voor bekende merken in te spreken. Maar ook audioboeken. En om gesprekken te hebben. Zo ook met mij. Je ziet het gesprek tussen Roel Fooij en mij hier: https://youtu.be/5NSI_JOnUpA